Quality Policy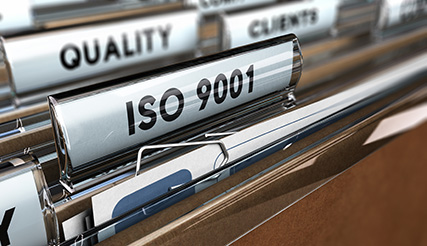 Strategically focused on global development, INSOLLtd. is committed to design, design, manufacture and provide technical support to food and beverage production machinery, with services that are fully compliant with specific specifications and requirements, for the complete and continuous satisfaction of our customers. its customers, which are checked for quality and safe use before their final delivery.
Through the harmonious cooperation of all stakeholders (management, staff, partners / subcontractors, suppliers but mainly its customers) it ensures the successful completion of its work.
To meet the above, the company has installed and implemented a Quality Management System that is monitored and improved through inspection, evaluation and review programs. It is designed to be primarily aimed at prevention.
The achievement of the objectives is achieved by modern know-how, compliance with applicable requirements, compliance with market and competition conditions, the employment of appropriately trained staff, assistive functions and the provision of the necessary resources (ie ethical and material means). ), with constant awareness and information on Quality issues.
The specific objectives for the operation of the company are established and reviewed through the Management Reviews.
All of the above guarantees compliance with the Quality Requirements, in accordance with EN ISO 9001: 2015, as well as the company's commitment to continuous improvement of the Quality Management System.
02/01/2019
The administration
Privacy Policy and Privacy

INSOL LTD (hereinafter abbreviated as "INSOL", "we", "our", "the Company") thanks you for your visit to the website and for your interest in our company and our services. We strongly believe that the protection of your personal data is very important and we want to feel good when you visit our website.
Below we inform you about the data we process and store when you use our website and how we use this data. Concerning to hyperlinks, that may include, if they are provided by third parties, is not applied this privacy policy, but applies the relevant privacy policy of each site.
By adopting this policy of protection, you agree to the collection, process and use of your personal data by the Company in accordance with the General Rules for Personal Data Protection (GDPR) and the following conditions of use:
Please take the time needed and carefully read this privacy policy.
The Controller
The controller is the natural or legal person, public authority, agency or any other body which alone or jointly with others determines the purposes, conditions and means of the processing of personal data.
For the purposes of this privacy policy the controller are:
INSOL LTD
Av. NATO 110, Ag, Georgios, PC 19300 - Aspropyrgos, Attica, Greece
Tel. + 30 210 55 55 515
Email: This email address is being protected from spambots. You need JavaScript enabled to view it.
You can contact the responsible for the processing of personal data to the following email address: This email address is being protected from spambots. You need JavaScript enabled to view it., if you wish to object to the collection, processing or use of your personal data by the Company in accordance with current legislation on protection of personal data and privacy policy of the Company's personal data.
When, why and how we process data
We collect, process, store and share personal information so that we can provide services. Below is which data do we need for every occasion.
Personal information we collect when you visit the website and register:
Data apparatus: device ID, operating system version running device or other device identifiers.
Login Information: Time, date, duration of visit, place of origin of the user, network protocol address (IP Address) and other information relating to the connection protocol.
Contact Information: Comments, rating or comments, contact information (like email address)
Other Information: Data you provide with your own will, when you visit the website, or other related activities, or data sources, social networks (social media or a public or non-accessible databases (e.g. user identity in this or other platforms)
If you provide personal data on behalf of a third party, you must have obtained the consent of the third party before disclosing our data to us. In this case, before these persons provide you with the above consensus, you must inform us about this privacy policy.
If you voluntarily disclose your personal data to third parties, you should investigate the terms of such data protection by those third parties. You also agree that our site has no sole responsibility for such disclosures and for the subsequent use of such data by other persons.
Depending on how you interact with our Platform, i.e., depending on the services, products or functionalities that you wish to enjoy, we will process your personal data for the following purposes:
For Marketing purposes:
If and when you subscribe to our Newsletter, we will process your personal data to manage your subscription, including of sending customized information on our products or services through various ways (such as e-mail, SMS or phone calls).
Accordingly, please take into account that this data processing implies analysis of your user or customer profile to establish your preferences and therefore which products and services are most fit to your style when sending you information
Remember that you may unsubscribe from the Newsletter at any time without cost through the "Newsletter" section of the Platform, in addition to through the instructions that we provide you with in each notice.
Analysis of usability and quality to improve our services:
If you access our Platform, we inform you that we will treat your browsing data for analytic and statistic purposes, i.e., to understand the manner in which users interact with our Platform and thus be capable of introducing improvements in the Platform.
Time, which we will keep your personal data
The time for which we will keep your data will depend on the purposes for which we process them, as explained below:
We will process your data until you unsubscribe or cancel your subscription to the newsletter.
We will subsequently keep them duly stored and protected for the time during which liability may arise for their processing, in compliance with legislation in force from time to time. Once each of the potential actions is time-barred we will proceed to delete the personal data.
Third parties with access to personal data
We will never pass on your data to unauthorized third parties. Nevertheless, to provide you with our services, we buy our services range from specific third party service providers to whom we give strict and restricted access to certain data. In any case, before we transfer any information to a company with which we work, we check each individual company. All recipients of the data must comply with the data protection requirements and to prove the security level provided with sufficient information.
To achieve the purposes mentioned in this Privacy Policy, we must give access to your personal data to third parties that provide us with support in the services that we offer you, i.e.:
anti-fraud detection and prevention entities,
technological service providers,
advertising and marketing related partners and service providers.
For service efficiency purposes, some of these providers are located in territories outside the European Economic Area that do not offer a level of data protection comparable to that of the European Union, in other words, the United States of America. In such cases, we inform you that we will transfer your data with adequate safeguards and always keeping your data safe.
What your rights are when making your data available to us
We undertake to keep your personal data confidential and to ensure that you may exercise your rights. Bearing that in mind, we Joint Controllers have agreed that you may exercise your rights free of charge by writing us an e-mail to a single e-mail address (This email address is being protected from spambots. You need JavaScript enabled to view it. ), simply informing us of the reason for your request and the right that you wish to exercise.
In particular, notwithstanding the purpose or legal basis we use to process your data, you have the following rights:
To request access to your personal data that we hold. We remind you that where you are a Platform registered user you may also consult this information in the relevant section of your online account.
To request that we rectify the personal data that we hold. Please bear in mind that if you are a registered user on the Platform, you may also access the relevant personal data section of your online account to change or update your personal data. In any case, please take into account that, on actively making your personal data available to us through any procedure, you guarantee that they are true and accurate and you undertake to notify to us any change or modification of your data. You will be liable for any loss or damage caused to the Platform or to the person responsible for the Platform or to any third party by reporting erroneous, inaccurate or incomplete information in the registration forms. Please remember that, as a general rule, you must provide us only with your own data, not with those of third parties, other than to the extent otherwise permitted in this Privacy Policy.
To request that we erase your personal data to the extent that they are no longer necessary for the purpose for which we need to keep processing them, as we have explained above, or when we are no longer legally permitted to process them.
To request that we cancel or limit the processing of your personal data, which entails that in certain cases you can request us to temporally suspend the processing of the data or that we keep them longer than necessary.
The users/visitors who have submitted their data maintain the rights; to information concerning the data, of access, of update and rectification, to erasure (right to be forgotten), to restrict processing, of data portability, and to object to processing. Furthermore, the maintain the right to revoke their consent at any time, without this affecting the processing of data before their consent being revoked, while they also maintain the right to complain to the competent DPA.
This site fully complies with its legal obligations.
Cookies
Like most sites, we also use cookies, in order to have access to some information every time you visit this site.
This site uses cookies:
That collect information regarding the way visitors use the site, e.g. which pages they visit more frequently or if they receive error messages from sites. These cookies collect centralized, anonymous information that cannot identify a visitor. This information is used exclusively to improve the efficiency of this site.
That allow this site to remember the user's choices, like the language of use or settings he/she has chosen, in order to provide more personal and better functions. This information cannot follow the user's browsing activity to any other sites.
Those are used for the provision of content more suitable to the user and his/her interests. They can be used to provide targeted information/ads/offers or to restrict advertisements.
Cookies do not pose any danger to the P/C of the user/visitor. If you do not wish information to be collected through the use of cookies, you can set your browser accordingly, delete existing cookies and choose either all new cookies to be rejected or to be asked each time a new cookie is to be saved to your hard drive, whether you accept them or not. However, you need to be aware that in case you choose to reject cookies, the use of parts or services of a site may become more difficult or impossible, as this affects the efficiency and functionality of a site and may cause restrictions to the user's access to its content.
Changes to privacy policy
We may modify the information contained in this Privacy Policy when we deem it necessary. If we do, we will notify you in various ways via the Platform (for example, via a banner, pop-up window, or push alert) or we may even send you a notification to your email address when this change is important for your privacy, so that you can review changes, evaluate them and, if necessary, oppose or unsubscribe from a service or feature. In any case, we suggest you check this Privacy Policy from time to time if we make minor changes or introduce some interactive improvement, taking advantage of the possibility that you will always find it as a permanent point of information on our Website.